Another Increase in Exports of Holland Onions
The current export season is coming to an end. With 6 weeks to go, the export numbers still are bright green. Things will have to be really strange for the Dutch onion exports not to break the last record of 2021. After the previous season, in which the epic export barrier of 1.2 million was easily exceeded, this export season hit the ground running. Total onion exports for this season already topped more than 1,218,000 tons. The number of countries actively importing stands at 132. In the same period in the 2020-2021 season, 1,136,000 tons were sold to 128 countries abroad. This means an export growth of more than 7% in comparison to the previous season. And that's in spite of the fact that some large markets, such as Bangladesh and Sri Lanka, have been completely lost this season due to the Indian onion, the biggest rival of the Dutch onion, regaining market share in that region.
Export Volume Climbers
The Ivory Coast remains a big driver of export growth. The export volume is 171,000 tons, which is almost as much as the frontrunner Senegal that has a volume of 175,000 tons. It is striking that the Ivory Coast comes with large purchase orders 5 weeks earlier in the season than Senegal and stays on the market when Senegal stops importing because of the availability of locally harvested product. The local harvest in Senegal has been increasing in recent years. However, the consumption is growing rapidly, so import will still be necessary when the local crop is not available. Other large volume climbers are Indonesia and Nicaragua. Export to the latter was stable with over 16,000 tons this season. Indonesia has grown quite steadily to almost 25,000 tons and the Central American neighboring countries of El Salvador and Honduras are also definitely in the race.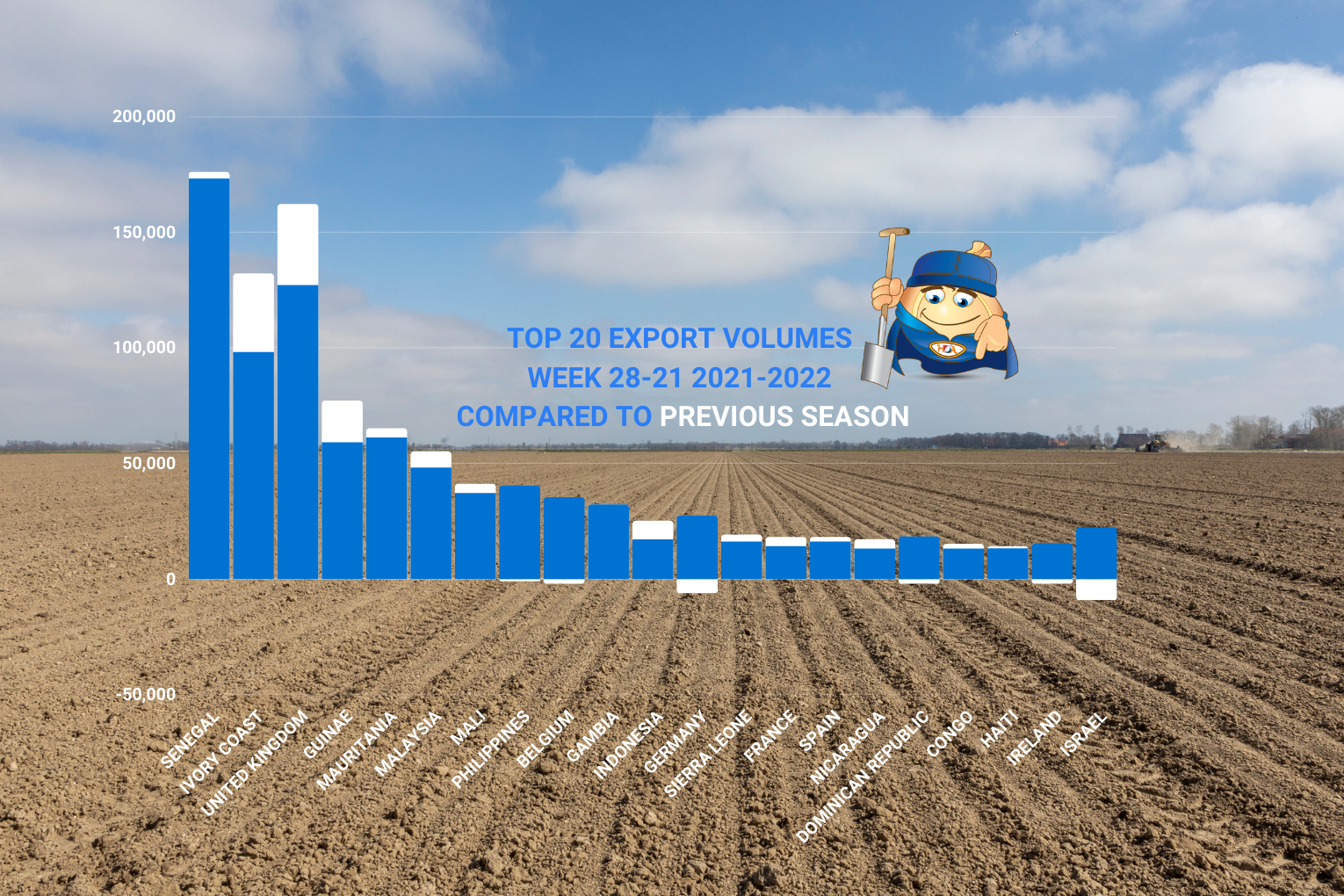 Youkoso Japan!
The Asian continent shows remarkable export growth to Taiwan and Hong Kong. The import volume of Taiwan has grown from 16 tons to over 7,600 tons this season, which now puts them in the top 35. With growth from 775 tons to over 3,500 tons, Hong Kong is now in the 49th position, just below Singapore that also shows growth. The big surprise this year is Japan. Apparently, the Japanese cuisine appreciates our Dutch onion as well. From a quite meager 400 kilos, the export volumes to this huge Asian island made a giant step forward to over 2,200 tons.
Strong Growth also Closer to Home
Great Britain have considerably risen again this season and have purchased almost 132,000 tons of Dutch onions already, which is almost 40% more than the previous season. Part of this growth is due to the fact that, because of Brexit, Great Britain have become a 'third nation' and everything was more accurately registered. This season, 36,000 tons (+40%) extra have already been transported across the Channel, which is 45,000 tons (+60%) more than in the same period in the previous year. The British are self-sufficient for roughly 50 percent of their domestic consumption of about 670,000 tons, however, they still are highly dependent on imports. Apparently, Holland Onion can take a bigger share from other suppliers in markets such as Spain, Egypt, New Zealand and Poland. The same can be seen in France, where the imported volumes of Oignons Hollandaises is growing continuously from over 14,000 tons to over 17,000 tons. Some French buyers insist on French onions along with our Dutch onions. A salient detail is that these French onions pass through the Dutch sorting mill, but do not end up in the export statistics.
Poland again shows pretty stable growth in volume. Furthermore, a substantial amount of field crop of the Dutch onion is exported, but is not shown in the weekly export volumes. Remarkable is the huge export growth to high-precision country, Switzerland. The previous season they purchased 600 tons and they have purchased no less than over 2,100 tons so far. Finland should not be left off this list. Their export has grown from 3,500 tons to 5,300 tons. Although these volumes are not top-10 volumes, the famous expression 'He that despises the little is not worthy of the great' still stands.
Ukraine
Ukraine has been importing onions from the Netherlands for a long time. Last season, it seemed that imports would be cut by half compared to the previous year. This year Ukraine, that has been besieged since 24 February, is recovering and has shown substantially larger week volumes since the outbreak of the war with Russia. With a total import volume of 6.800 tons of Holland Onions, it ranks 36th.
Vietnam and Columbia are Open Again
After a long time closed, two countries reopened their borders again for Dutch Onions and that creates opportunities for the coming onion season. Especially Columbia could be a mayor buyer if the harvest is not that good in that region. This Latin American country used to buy over 10,000 tons in the past and therefore is a very welcome returning customer. Thanks to close cooperation between the HOA, the agricultural councils and the embassies, the government of these countries were convinced, after intense discussions, to reopen their borders for the widely acclaimed Holland Onion with its blonde skin.