an onion a day, keeps the doctor away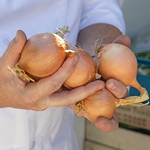 At first sight, the Dutch onion might seem a bit ordinary, however, it's a very healthy vegetable that can help fight off a cold or the flu. It's full of extremely important fibres, minerals, vitamins and antioxidants such as quercetin, flavonoids and selenium.

Although all Read more »
Holland Onion reaches eye-watering export volume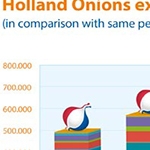 Once again, this is another great year for our Holland Onion. The export figures already topped 1.15 million tonnes and remain well ahead of the record season of 2017-2018, despite the long-haul logistical challenges.
The numbers of the second half of the year show strong Read more »